Air Conditioning Services Oxfordshire
Air Conditioning Oxfordshire (Exact Air) offer the complete range of services to the air conditioning needs of the end user.
Initial contact. A Confident and friendly approach to our first contact, this with an experienced ear, given with Free Professional advice. The first Contact is an important episode in the development of any relationship. EXACT AIR Ltd prides itself in understanding the importance of this First Contact.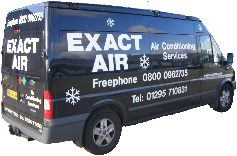 DESIGN AND SELECTION.
Using the vast Knowledge and Experience at our disposal, Exact Air will offer Air Conditioning & heating system's that will best suit the End User requirements and that will enhance their Working Environment. We greatly value the importance and balance between the End Users requirements and the use of this in selecting the Right Solution
WARRANTY & MAINTENANCE.
We can offer the best balance to meet with the Manufacturer's available extended Warranty and its association with an ongoing Maintenance program. A Maintenance program will be worked out to meet the End Users working environment, the Manufacturers requirements and to give the best value.
SERVICE AND REPAIR.
With our vast knowledge of the Air Conditioning Service Industry can offer prompt service callouts to contract and non contract clients. Our engineers are experienced and trained in service procedures. As the result of a service call-out, we will offer a concise explanation to the fault, a written report for your records and information relating to any further works that may be required.
Energy Assessments Oxfordshire

Click image to visit Exact Air's Energy Assessments main website